1. This association is called "Thai Association for Gastrointestinal Endoscopy" or TAGE. The word "Association" in this regulation is referred to the Thai Association for Gastrointestinal Endoscopy.

2. The emblem of the Association is shown below: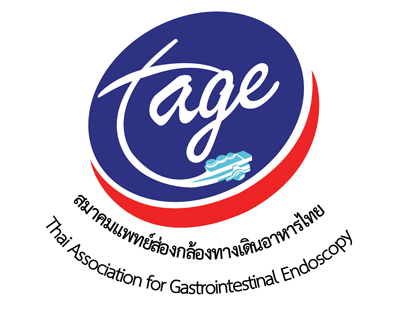 The construction of the emblem: The organization name abbreviation "TAGE" is written upon a blue and red overlapping circles background. An endoscope is drawn on the bottom of the abbreviation. The English and Thai names of the Association are written on the bottom of the emblem.

3. The head office of the Association is located at Bumrungrad International Hospital 68, 10th Floor, Sukhumvit Soi 1, Sukhumvit Road, Khlong Toei Nuea, Wattana, Bangkok 10110.

4. The objectives of the Association:
4.1 To foster, promote, and disseminate medical sciences and research regarding gastrointestinal system and gastrointestinal endoscopy;
4.2 To disseminate knowledge as regards gastrointestinal diseases to the public;
4.3 To promote unity, medical etiquettes, and welfare of its members; and
4.4 To cultivate good relations with the public, national and international medical institutions and organizations in other fields.